SVDP Virtual Sports Day 2020!
11th Jun 2020
Hi everyone!
Tomorrow, Friday 12th, will be our SVDP Virtual Sports Day! We know that Sports Day is a day that many of our children really look forward to in the final term. This year will certainly be a Sports Day to remember as it can be done from the luxury of your own home and garden!
Every child in the school is invited to participate in our Sports Day tomorrow with their families. If it does not suit you to take part tomorrow, feel free to choose any day that suits you to complete the events. We have used the resources on the Sligo Education Centre to plan a really fun day for everybody. There are six sports events/challenges to complete. Click on the link below to find out what equipment you will need and how to take part in Sports Day tomorrow:
https://www.stvincentdepaulinfantschool.ie/active-schools-flag/active-home-week-2020/
Don't forget to see who our last Mystery Teacher is too! We hope everybody has so much fun tomorrow and really enjoys the day!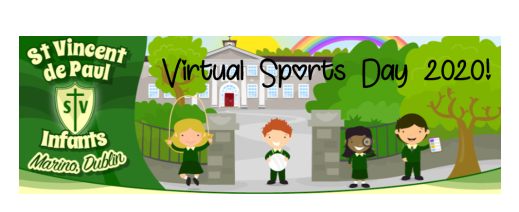 St Vincent De Paul Infant School, Griffith Ave, Dublin 9, Ireland
Phone: 01 8334538 | Roll Number: 16754R