Junior Infants September Hometime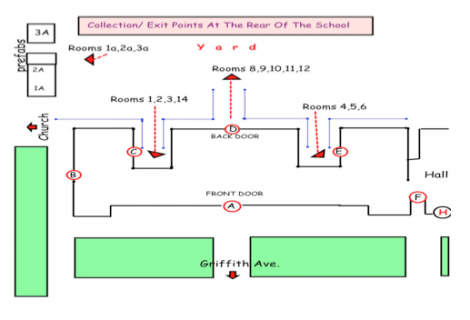 We are delighted to welcome our new Junior Infants to school. To help the children to settle into school life we begin with a shorter day and gradually increase the school day. Collection details for August /Sept are as follows:

Collection Points and Times
Junior Infants : collect at 12.00 noon from Friday 31st August - Friday 14th September

Rooms 1, 2 and 3 :In courtyard at door C ( at the rear of the school, church side)
Rooms 4 and 5 :In courtyard for door E (at rear of school, credit union side)
Children line up with their teachers at their designated spot (see map) and must say goodbye to the teacher when collected. Please don't allow your child to run to you without doing this. This routine is essential for their safety.
The above points are the usual collection points for the year .However , from Mon 17th - Fri 28th September the junior infants go home at 1.00 pm from the following points (see map )

Rooms 4 and 5 from door F at school hall side.
Rooms 1, 2 and 3 from door B at the side of the school near the church.
FROM MONDAY 1st October, for the rest of the year, collection time for Junior Infants is 1.50 pm at the same collection points used at the start of the year.
IN THE MORNING ALL CHILDREN ENTER THE
SCHOOL VIA THE BACK DOOR D AT THE MIDDLE
RAMP TO THE REAR OF THE SCHOOL.

Children walking in by themselves (not junior infants)
go to the front of the line at the ramp.
Parents/guardians must stay to supervise their children until they enter the school through the back door.
St Vincent De Paul Infant School, Griffith Ave, Dublin 9, Ireland
Phone: 01 8334538 | Roll Number: 16754R