Junior Park Run!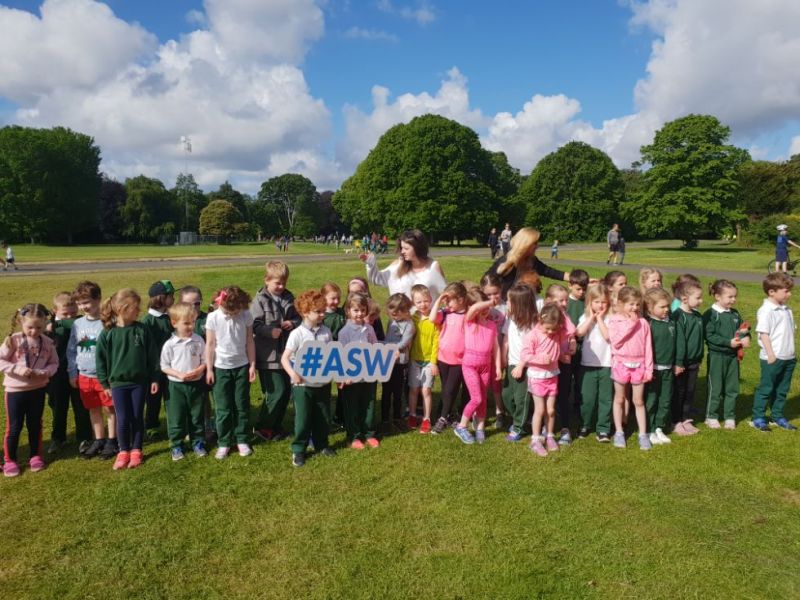 Well done to all the pupils who completed the Junior Parkrun in St. Anne's Park on Sunday morning! There was such a great turnout of children to complete the 2k run through the park. It was a lovely sunny day and everyone was in great spirits for the run. Well done to everybody who took part- what a super achievement!
Fun Friday for First Class!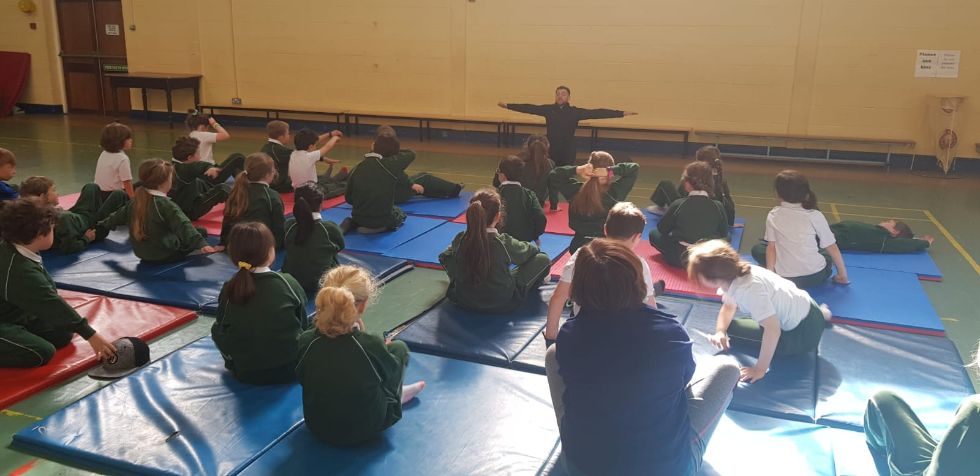 Our First classes were very lucky to have Pilates workshops with Anthony as part of our Fun Friday activities. Anthony has been in the school (attempting!) to teach Pilates to the teachers for the last 6 weeks. We think he had a much easier job working with the very flexible first class boys and girls on their Pilates stretches and moves! Thank you so much for coming in to share your skills with us Anthony- the first classes really had a very fun Friday indeed.
Fun Friday for Senior Infants!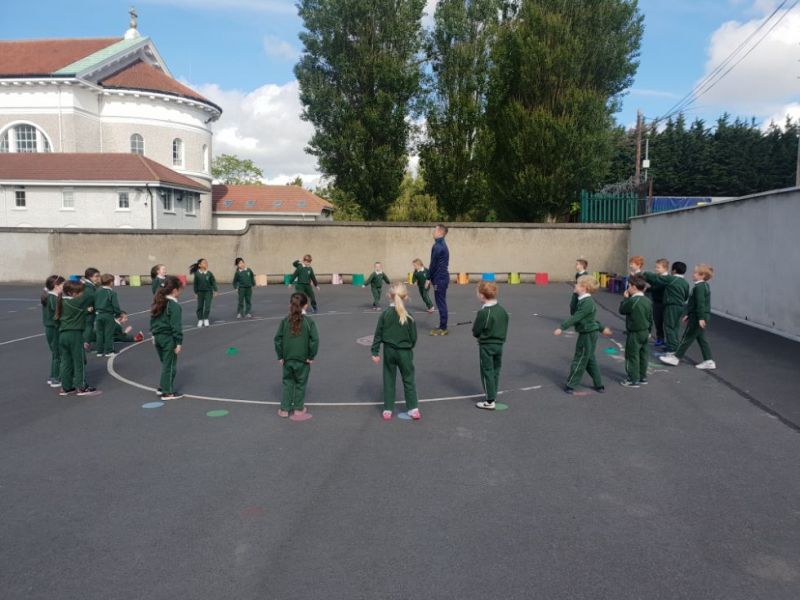 The Senior Infants had great fun on Friday doing GAA skills with Aoife's Dad, John, as part of Fun Friday to finish off our Active School Week. John taught the boys and girls hurling and football skills and played lots of really fun drills and games out in the yard. The children were delighted and had a fantastic time. Thank you so much to John for coming in to visit us and planning such fun activities!
Fun Friday for Junior Infants!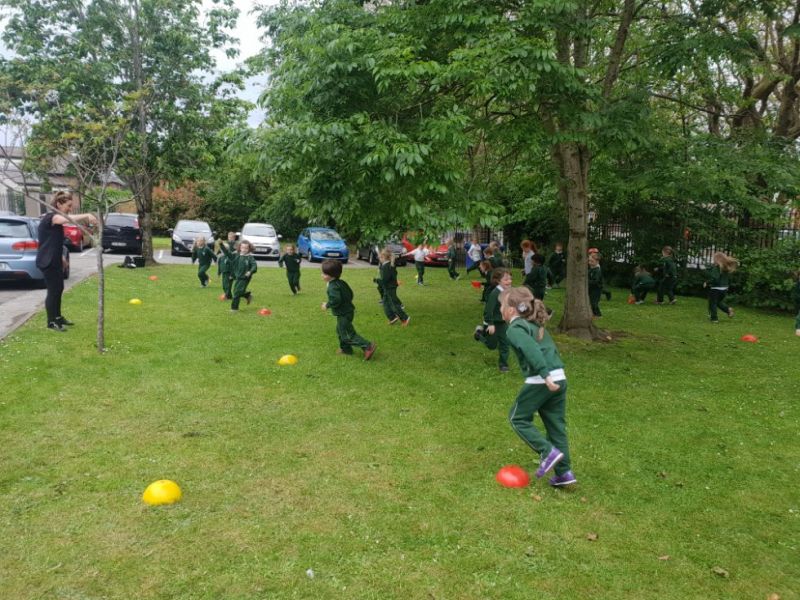 Marc's Mum, Sonya, came in to do a super fun Bone Health Obstacle course with all of our Junior Infant classes. The children had a great time playing warm-up games with Sonya using cones and pegs. They were then split into teams to complete obstacle courses that involved jumping over hurdles, climbing through tunnels, hopping in hoops and rolling on mats. Thank you so much Sonya for planning so many fun activities for our Junior Infants- they had such a wonderful afternoon!
Teamwork Thursday for First Class!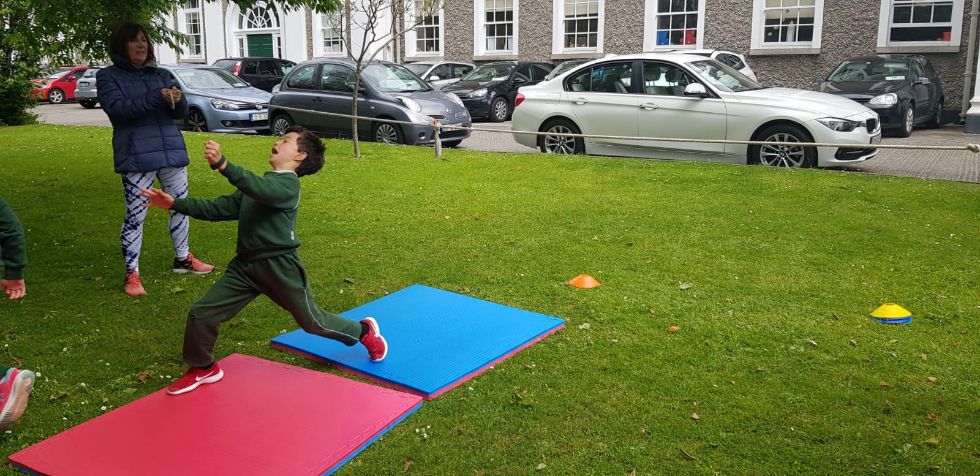 The First classes really enjoyed working together for Teamwork Thursday completing three different challenges. Firstly they participated in a limbo competition on the grass 'How low can you go?'. Next they moved on to unihoc and worked in teams to score as many goals as possible. Finally they completed a penalty shoot-out. The first class girls and boys were excellent at working together and supporting each other- well done to all involved!
Teamwork Thursday for Senior Infants!
Oisín's Dad, Patrick, and Noah's Dad, Kevin, came in to do GAA skills with all the Senior Infant classes as part of Teamwork Thursday. Patrick and Kevin taught the boys and girls hurling and football skills and did lots of really fun drills and games outside in the yard. The children were absolutely thrilled. Thank you so much to Patrick and Kevin for sharing your GAA expertise with all of us!
Teamwork Thursday for Junior Infants!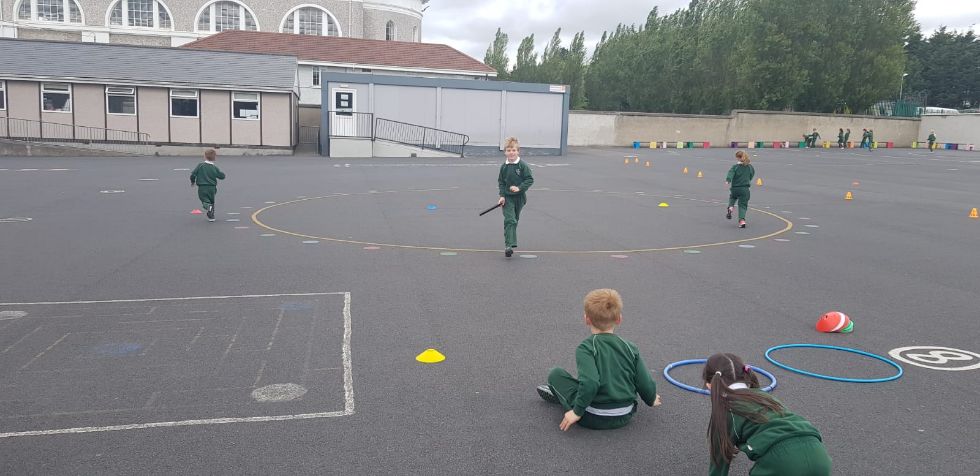 Joshua in Room 3's Mammy, Heather, very kindly came in to do Athletics with all the boys and girls in Junior Infants. Heather teaches Physical Education to secondary school pupils. She brought in lots of fun equipment for us to use and the children particularly enjoyed throwing the foam javelins as far as they could through the air. The boys and girls also ran relay races and Heather taught them how to pass the batons safely and quickly to each other. Thank you so much Heather for giving up your time to come in to share your athletics skills- I think we have quite a few budding athletes in SVDP!
Students vs Teachers Hoops Challenge!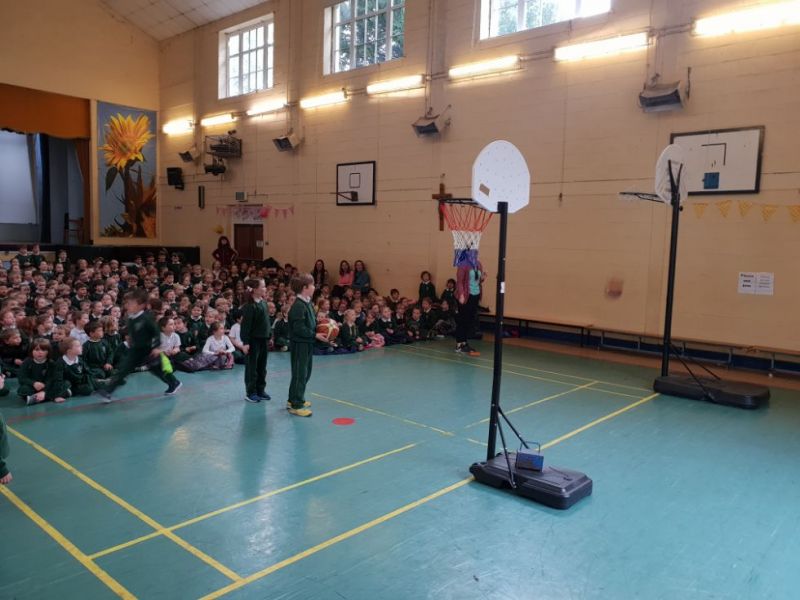 There was great excitement in the hall on Wednesday afternoon when the whole school gathered in the hall for our Students vs Teachers Hoops Challenge! You could feel the tension in the air as two children from each class took on their teacher to try to get the most basketballs through the net. As the boys and girls cheered each other on, the teachers crumbled under the pressure and didn't have a patch on our basketball superstar pupils! Well done to all our amazing pupils- teachers we better get practising our slam dunks for next year's challenge!
Workout Wednesday!
Unfortunately our Sports Day was cancelled on Wednesday due to bad weather. It has been rescheduled for next Tuesday, the 11th June so we are really looking forward to that! We still managed to have lots of fun indoors on Workout Wednesday! We set up an obstacle course in the hall and all the classes had great fun climbing through tunnels, balancing on beams, jumping over hurdles and hopping between ladders.
Try it Tuesdays for Senior Infants!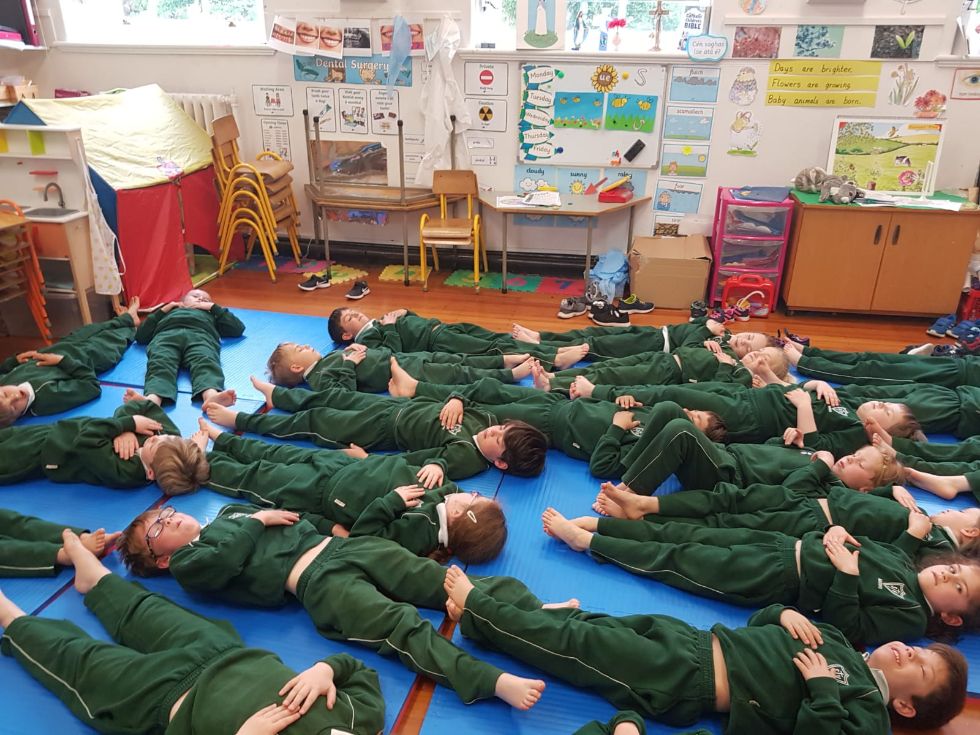 The boys and girls in Senior Infants had a lovely treat to brighten up their Tuesday when Siobhán came in to do Yoga classes with them. Siobhán is a yoga teacher at Yoga for Life. She taught the children lots of yoga poses like Cat pose and Downward-facing dog pose. She also did lots of calming relaxation and breathing exercises with the children. Siobhán even stayed after school to do a yoga class with the teachers! We are all feeling very zen after our yoga sessions! Thank you so much Siobhán for giving up your time to come in to us. We all absolutely loved the yoga sessions and we will keep practising the new poses we learned!
Try it Tuesdays for First Class!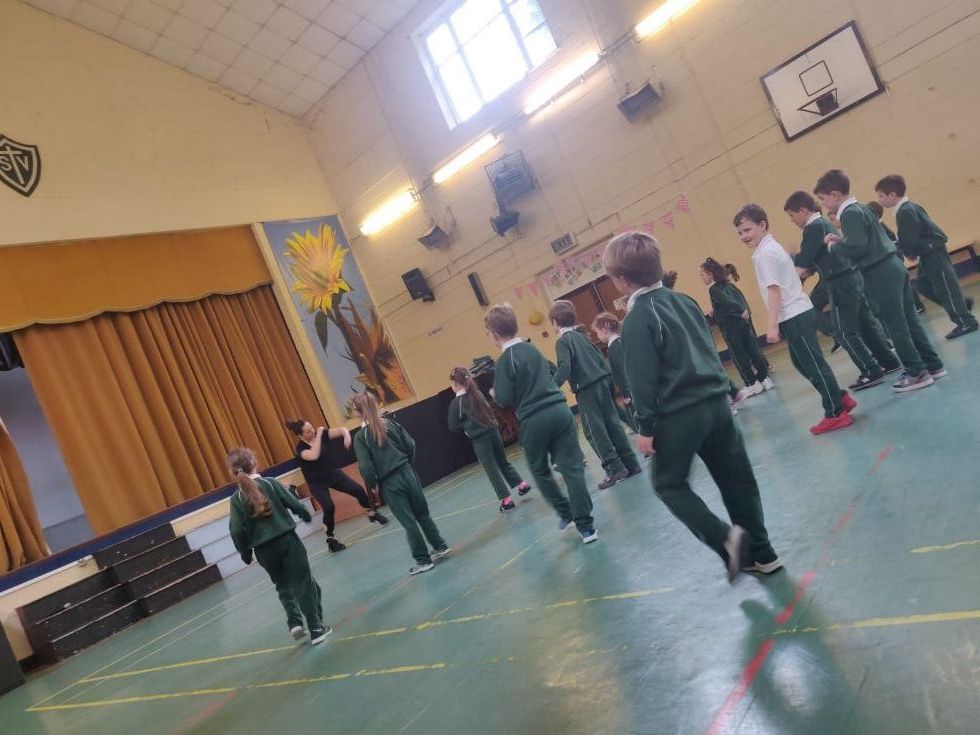 The First Class boys and girls really enjoyed participating in a Dance class with Adrienne, Lulu in Room 3a's Mammy. The children had to concentrate really hard as Adrienne taught them lots of new moves and steps. By the end of the session, the children had learned three dance routines to some really cool music. Thank you so much Adrienne for coming in to teach us your dance moves!
Try it Tuesdays for Junior Infants!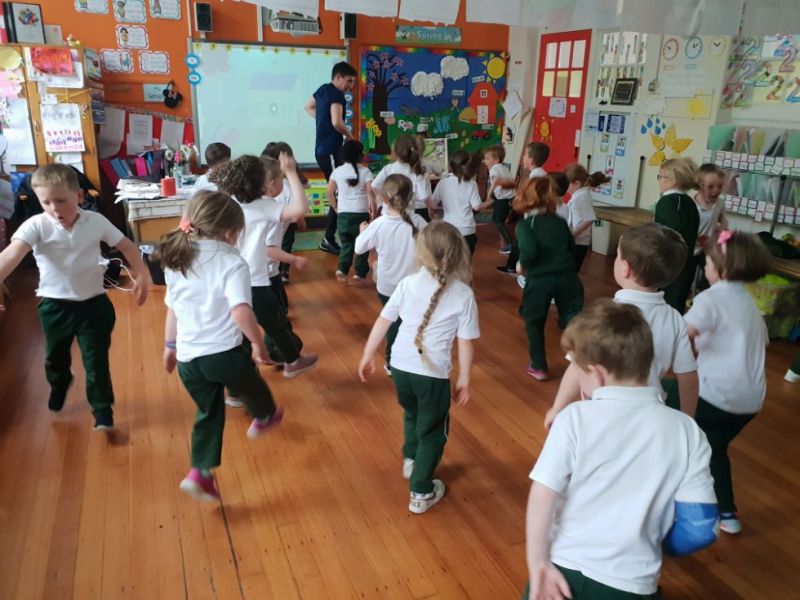 For Try it Tuesday, the Junior Infants were so lucky to have really fun sports sessions with Peter! Peter is Jessica in Room 1's big brother and he is a personal trainer and fitness instructor. He really helped all the boys, girls and teachers (even Mrs. Kennedy!) to work up a sweat with his aerobics classes. Our fitness skills were certainly put to the test! Thank you so much for coming to see us Peter- the Junior Infants had so much fun!
Drop Everything And Dance!
During Active School Week 2019 each class committed to 'Drop Everything and Dance!' at 11.40 each day. To remind us that it was time to drop everything and complete a dance, two of our Active School Committee Members rang the bell in the corridor each day. Here is one of our favourite songs to dance to- maybe you can try it at home!
Mile a Day Challenge!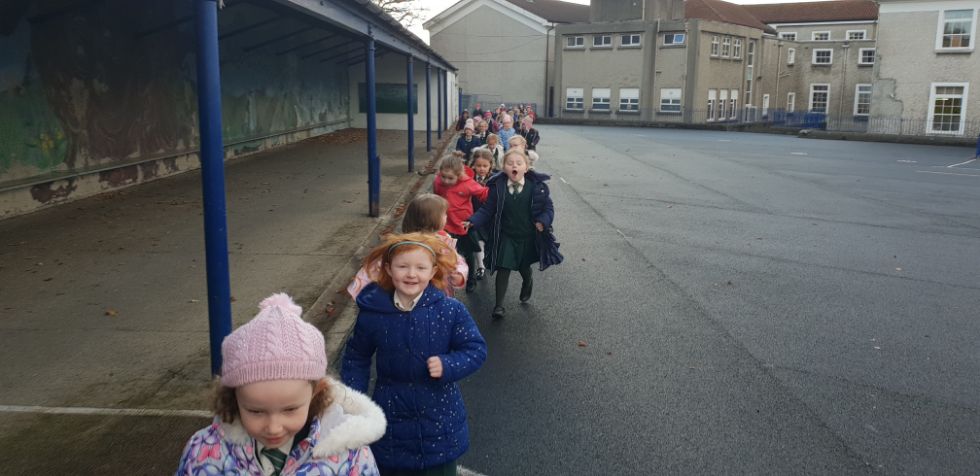 Every day during Active School week the children participated in the 'Mile a Day' challenge. The children got a break from their classrooms to get outside into the fresh air to complete a lap or 'mile' of the school yard. Some of our older pupils were even able to complete three or four laps! The children felt energised when they went back to class and found they could concentrate better on their work for the afternoon. Well done to all our runners on completing the challenge!
Wake Up Shake Up!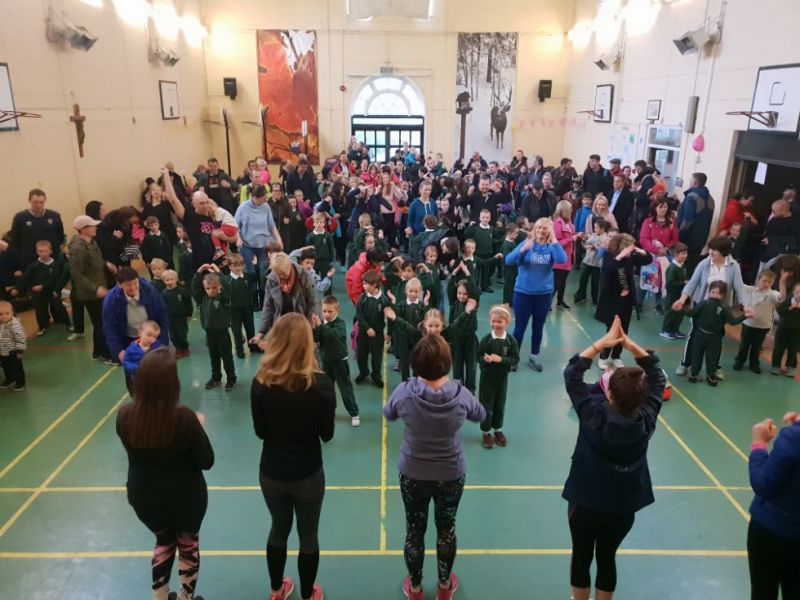 Every morning during Active School week the teachers, pupils, parents and guardians worked up a sweat by dancing as part of our morning Wake Up Shake Up. For twenty minutes before school started we all met in the school hall or in the yard (weather dependent!) to pull out all the moves to dances such as 'YMCA', 'The Macarena', 'Saturday Night', 'Baby Shark' and 'Superman'. We all had so much fun dancing together and felt really energised for the day ahead!
Our Active School Song!
Two of our very talented committee members- Conall (Room 6) and Charlotte (Room 11), wrote an Active School song called 'Home Grown, Couch Potato' to the music of George Ezra's song 'Shotgun'. We have been busy in SVDP learning the lyrics to our fabulous Active School song using actions to remind us to keep active! Here are the words so you can practise at home!
Verse 1
Home-grown couch-potato, See you later
Gotta hit the road, gotta hit the road.
The flag is ours if we all work as one,
I can get used to this!
Verse 2
Time flies by when you're up and about,
Stick around and you'll see what I mean.
There's a mountain top that I'm climbing up,
Do you need me? Let's work as a team!
Chorus
I'll be running fast Mum,
Underneath the hot sun,
Feeling like an active one x2
Repeat Verse 1 & 2
Verse 3
We got two in the front,
Two in the back,
Racing around,
And we don't look back!
Repeat Verse 2
Repeat Chorus
Active School Week 2019
Our Active School Week will kick off from 4th June to 7th June 2019. This week aims to promote the importance of physical activity, health and wellbeing among pupils, parents and staff. We have lots of exciting activities planned for this week!!!
To facilitate these activities, children should-
wear their school tracksuit all week

bring a spare pair of socks every day

bring an extra drink every day, preferably water.
We are looking forward to a fun-filled week!
The activities for the week will include:
Wake Up! Shake Up! – This will take place in the yard every morning of Active Schools Week at 8.45am. We invite pupils, siblings, parents, grandparents, childminders etc. to join the teachers and start their day with a dance!

Sports Day will take place on Wednesday 5th of June for all classes.

WOW- Walk On Wednesday (Or Scoot/Cycle on Wednesday!) – We're encouraging children and parents to walk/scoot/cycle to school on Wednesday and as many days as possible during Active School Week.

The Daily Mile Challenge/ Run Around Europe – The children will complete this challenge with their classes to run as many laps as they can to reach some of Europe's biggest cities!

Drop Everything And Dance- At a chosen time each day the children will drop everything and complete a fun dance in their classroom.

Taster Sessions - Some taster sessions in GAA, circuit training, yoga, pilates, mindfulness, golf, rounders and dance have been organised for the children, thanks to the parents and local sports agencies who have volunteered to facilitate these sessions.

Students vs Teachers Hoop Challenge- The children will take on their teachers in a 'highly competitive' basketball hoop challenge!

Active Homework – Instead of written homework, the children will be given active homework to complete during Active School Week.
To bring our Active School Week to a close, the children are invited to represent St. Vincent de Paul Infant School at the Junior Park Run on Sunday 9th June in St. Anne's Park (start location is beside the playground) at 9.30am (please arrive at 9.20am). You need to register your child for free in advance at www.parkrun.ie and select 'St. Vincent de Paul Infant School' as your running club. If your child already attends Junior Park run there is no need for them to re-register.
St Vincent De Paul Infant School, Griffith Ave, Dublin 9, Ireland
Phone: 01 8334538 | Roll Number: 16754R