Mindful Monday
We kicked off our SVDP Wellbeing Week with Mindful Monday. In each class the children discussed what 'Mental Health' means and talked about how we can 'be kind to our minds' by getting enough sleep, eating 'good mood' food, exercising, connecting with our friends and family, using kind 'self-talk', practising gratitude and mindfulness and developing healthy habits. We listened to Ms Finn reading a lovely story called 'It's Always There' by Louise Shanagher. We learned the '5 for 5' breathing technique with one of our amazing parent volunteers, Joe. We went outside to use what we had learned from Joe and use our five senses to become more mindful and present in nature. We had lots of fun on Mindful Monday! If you would like to watch any of the videos from Mindful Monday again at home, you can find them below.
It's Always There story
We enjoyed listening to Ms Finn reading the lovely story 'It's Always There' as part of Mindful Monday. This story is part of the 'Mindfully Me' series of Mindfulness books written by Louise Shanagher. The story brought us on a journey through cloudy days when we don't feel so good and taught us a secret trick to help us find our sunshine again.
5 for 5 with Joe
One of our very kind parents, Joe, shared this fantastic video with us showing us all how to do the '5 for 5' technique. This is a very helpful tool that we can use when we feel sad, anxious or worried to help us feel happier and calmer.
Joe Maloney is a Mental Health Coach and he is the founder of MindGrind Wellbeing. He is a qualified professional life coach and has trained in psychotherapy, counselling, recovery-oriented services and many psychological disciplines. He is a passionate advocate of positive mental health and emotional wellbeing and has vast therapeutic experience working with clients facing difficult aspects of life, including challenges around anxiety, depression and low mood disorders.
We are so grateful to Joe for sharing his wonderful skills with us for Wellbeing Week.
Thankful Tuesday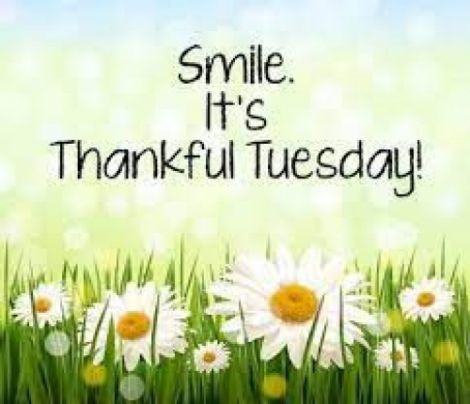 We realised just how many things we have to be thankful for on Thankful Tuesday. Ms Geraghty taught us about Gratitude and showed us how to make a gratitude tree for our classroom or at home. We had lots of fun doing exercise with the Mulqueen family in their fitness class. We shared three things that we are grateful for with our friends and teacher. We also listened to the Thankful Song: https://www.youtube.com/watch?v=YeSdQmO51Ps
For a Wellbeing Week Homework Activity we can make Worry Monster boxes at home. Any time we have a worry we can feed it to our Worry Monster and this will help make our worries go away. We enjoyed all the fun activities for Thankful Tuesday and we feel very grateful for all the wonderful people and things in our lives.
Gratitude with Ms Geraghty
Ms Geraghty taught us all about Gratitude for Thankful Tuesday. She explained that being grateful means focusing on the good things and people that we have in our lives. Gratitude helps us to appreciate what we have. Ms Geraghty showed us how to make a lovely Gratitude tree. Thank you Ms Geraghty for this super lesson, we are very grateful to you for helping us!
The Edge Gym Fitness class with the Mulqueen Family
We all had so much fun doing this fitness class with the Mulqueen family who own the Edge gym. Thank you for keeping us fit, active and healthy during our Wellbeing Week. Molly and Gracie you are super fit, we could barely keep up with you and your Dad! Thank you so much to the Mulqueen Family for sharing your amazing skills with us for our Wellbeing Week.
Worry Monster Box
Ms Owens showed us how to make Worry Monster Boxes to help us whenever we feel worried, anxious or nervous. You can simply write your worry down on a piece of paper and feed it to your Worry Monster. They will gobble it up and help to ease your worries!
Well-being Wednesday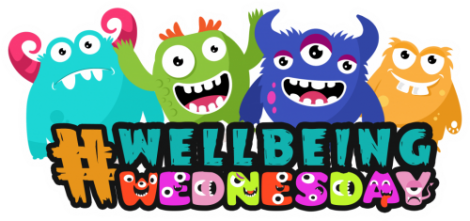 We all had so much fun on Well-being Wednesday! We learned a really lovely Sun Salutation with Ms Finn and some classes went outdoors to try it on the grass. We listened to Ms Finn reading the next story in the 'Mindfully Me' series, called 'Where is Happy'. We talked about what makes us happy to be us. The story reminded us that we are all special, unique and important. We learned how to do Star Breathing and we played a really fun Affirmation game with our amazing parent volunteer, Niamh. Some of our First Class pupils created some wonderful Well-being acrostic poems.


Sun Salutation Yoga with Ms Finn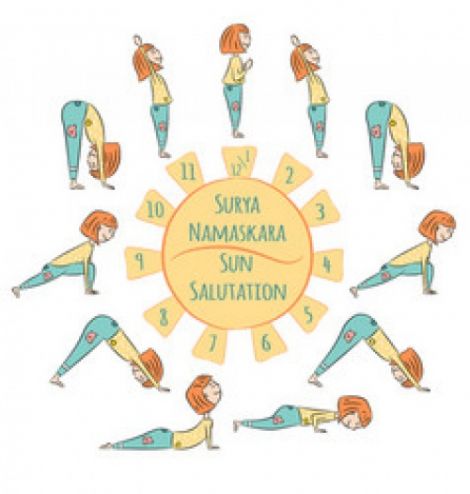 Ms Finn showed us how to do a really fun Sun Salutation. We tried it in our classrooms first and then went outside to try it on the grass. You can try it at home by following the steps below or watching the video.
To start stand with your feet close together. Put your hands together in front of chest. Take a big, deep breath in through your nose and breathe out through your mouth. Try that three times.
Step 1: Move hands around in a big circle in the air. 'I make a circle, nice and round'.
Step 2: March on the spot. 'I stamp my feet down on the ground'.
Step 3: Bend over from the middle and walk hands out in front. Stop with bottom up. 'I bend and walk my hands, then stop.'
Step 3: 'Now I'm a triangle with my bottom on the top.'
Step 4: Come down onto all fours on knees. 'Now I'm a lion, big and strong.'
Step 5: ROAR!
Step 6: Lift one hand and the opposite leg. Then swap sides. 'Now I stretch, lean and long'. 'Other side'.
Step 7: Crouch into a ball and cover head. 'Now I hide'. Count 1,2,3,4.
Step 8: Come up onto knees and wave hands. 'Here I am!'
Step 9: Stand up. Spin arms around and be silly. Then put hands together again in front of chest. 'Here I am, back at the start.'
'Where is Happy?' story
We listened to Ms Finn reading the next story in the 'Mindfully Me' series, called 'Where is Happy?'. This lovely story promotes self-esteem and self-confidence. It encourages the children to practice finding peace and happiness within themselves. The story encourages children to love and accept themselves just as they are, to think positively about themselves and to be a friend to themselves. After listening to the story, the children talked about what makes them happy to be them. The story reminded them that every person is special, unique and important. Thank you Ms Finn for reading these beautiful stories to us all.
Star Breathing & Affirmation Game with Niamh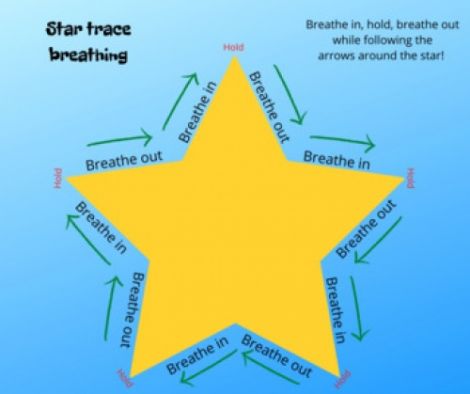 One of our fabulous parent volunteers, Niamh, played an amazing affirmation game with us called 'Written in the Stars'. We had so much fun playing this magical game and choosing our favourite stars to see what was written in the stars for each of us! We received one of three lovely messages; 'I am a Brilliant Star', 'I am a Friendly Star' or 'I am a Valuable Star'. Niamh then taught us how to do some wonderful 'Star Breathing'. We imagined that we were breathing in peace to our heart and then breathing out peace into the world. Thank you so much Niamh for sharing your incredible skills with us! To play 'Written in the Stars' or practise your star breathing again, watch Niamh's video by following the link below:
Thriving Thursday!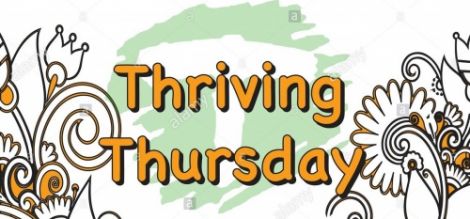 We all had an absolutely TERRIFIC Thriving Thursday! The sun was shining brightly for all the pupils in our school as we danced our socks off in our rainbow colours for Pieta House! The children have been practising really hard in class and at home learning dance routines to 'YMCA', 'Dynamite', 'The Ketchup Song' and 'Can't Stop The Feeling'. Check out the wonderful photos and videos of our day here:
Huge thanks to the amazing Ms Coughlan for teaching us the super dances and leading us on the day, you are a superstar! We also listened to Ms Finn read the third story in the 'Mindfully Me' series, 'Look Who's Here'. We spent some relaxing time in the Outdoor classroom doing some mindful colouring. The brilliant Brennan family showed us how to make the most beautiful Wellness box for our classrooms and to keep at home. We are all truly thriving after so many lovely activities. :-)
St Vincent De Paul Infant School, Griffith Ave, Dublin 9, Ireland
Phone: 01 8334538 | Roll Number: 16754R