Safer Internet Day 2021- Tuesday 9th February 2021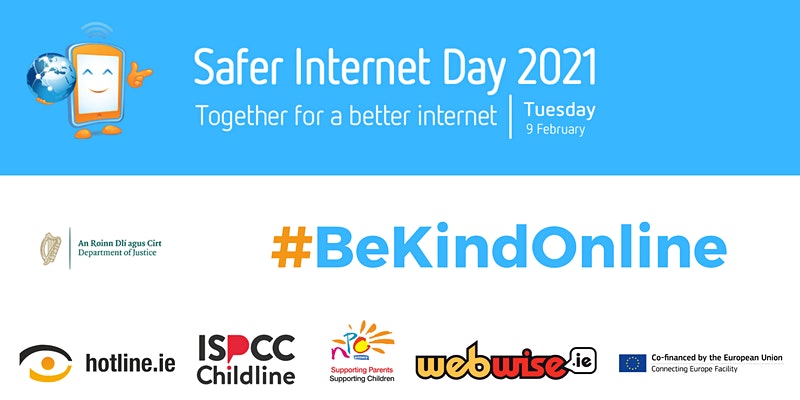 What is Safer Internet Day?
Safer Internet Day (SID) is an EU wide initiative to promote a safer internet for all users, especially young people. It is promoted in Ireland by the PDST Technology in Education and Webwise.
Links:
Resources for parents, teachers and children on Safe Use of the Internet
Webwise- Teacher and parent webinars
#BeKindOnline Series: Empowering Healthy Online Behaviour in Younger Children- Click here to register for free
To mark Safer Internet Day, the Irish Safer Internet Centre and the Department of Justice are delighted to host the #BeKindOnline Webinar Series.
Please join us for our second webinar: Empowering Healthy Online Behaviour in Younger Children
Guest Speaker: Mark Smyth, Consultant Clinical Psychologist
Audience: This webinar is suitable for parents of younger children
If you have any questions about the launch event or the webinars, please contact event.support@justice.ie
We look forward to welcoming you.
Department of Justice
An engaging Online story for younger children 3-7 years old.
Help arrives just in time for Digiduck® when faced with a difficult decision! Follow Digiduck® and his pals in this story of friendship and responsibility online.
The Digiduck® collection has been created to help parents and teachers educate children aged 3 - 7 about how to be a good friend online. The collection now includes a book, PDF, poster and interactive app.
St Vincent De Paul Infant School, Griffith Ave, Dublin 9, Ireland
Phone: 01 8334538 | Roll Number: 16754R