Learning to Cut in Room 3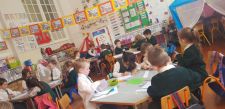 The Boys and Girls of Room 3 have been very busy learning to use their scissors. We have one very important rule when using a scissors - we only use a scissors to cut paper!! The children are making great progress and are very careful when cutting.
We have been cutting straight lines, wavy lines and zigzag lines and we're getting better every day!!
Latest Photographs
St Vincent De Paul Infant School, Griffith Ave, Dublin 9, Ireland
Phone: 01 8334538 | Roll Number: 16754R