Room 8 Christmas Concert
6th Jan 2023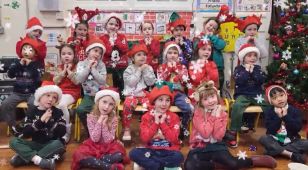 Before the Christmas break our Senior Infants in Room 8 put on a very special performance for some of the teachers in the school! We were delighted to be joined by Mrs Drought, Mrs Maher and Mrs Donnelly, and a huge thank you to Ms Byrne for providing the keyboard accompaniment, and Ms McCreesh for recording the video!
Please sit back and enjoy the two songs we performed, 'Seo é an Leanbh Íosa' (Away in a Manger) and 'Rudolph the Red Nosed Reindeer' with percussion instrument accompaniment!
Hope you all had a lovely Christmas, happy new year and Nollag na mBan Shona Daoibh!
St Vincent De Paul Infant School, Griffith Ave, Dublin 9, Ireland
Phone: 01 8334538 | Roll Number: 16754R